BLUESTAR CORPORATE RELOCATION SERVICES RECEIVES SILVER SUPPLIER INNOVATION AWARD AT CARTUS 2019 GLOBAL NETWORK CONFERENCE.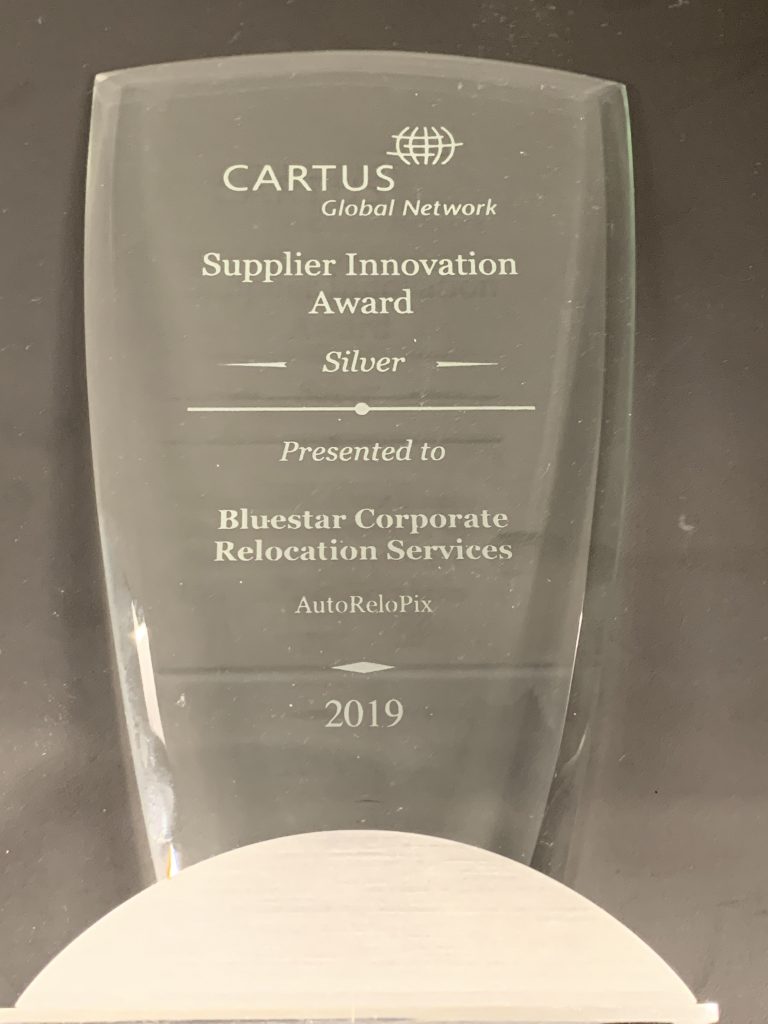 Bluestar Corporate Relocation Services, one of the nation's leading providers of automotive transport solutions, was recognized for customer service excellence at the Cartus 2019 Global Network Conference, on October 14, 2019.
The Supplier Innovation Awards recognize suppliers who have invested in innovations to improve customer service.
Bluestar received the award for its implementation of the ClaimPix product, AutoReloPix, a self-service photo platform used to capture pre and post shipping photos, and to upload Bills of Lading.
Through implementing AutoReloPix, Bluestar has reduced claims by 34% and has improved closing time for client shipments through more efficient Bill of Lading processing.
Bluestar partnered with ClaimPix in 2018 to develop a product for corporate relocation. Through this partnership, they developed the product AutoReloPix, which integrates with Bluestar's internal system.
"Our partnership with ClaimPix allows us to provide our customers the type of efficiency and cost savings they expect and deserve from businesses in today's environment," said Bluestar Corporate Relocation Services President, Robert Mills. "By creating our own product, AutoReloPix, using the ClaimPix technology and expertise, we've acquired the flexibility to augment and modify the product to assist in creating an agile organization to better suit our customers' needs."
"We were excited for the opportunity to work with Bluestar to develop the ClaimPix platform for car shipping vendors," Caleb Beltran, Sales Account Manager, ClaimPix said. "Their recognition for innovation at the Cartus Global Network Conference this year is a testament to their dedication to superior customer service experience."
Approximately 400 attendees from 195 companies and 40 different countries attended the conference, held in Boston, Massachusetts. The conference, whose theme centered on synergy, recognizes the extraordinary achievements of network members in serving Cartus' clients and customers worldwide.
The awards ceremony honored those suppliers who have consistently delivered exceptional service to Cartus' customers, as well as those who invested in innovations that improved service. Award winners were named at the platinum, gold, and silver levels in the categories of "Commitment to Excellence" and "Innovation".

About Bluestar Corporate Relocation Services
Bluestar was founded in 2004 in the Sunshine State, better known as Florida. Since its founding Bluestar has expanded operations across all fifty states, growing to become one of the country's leading providers of automotive transport solutions with a robust nationwide distribution system of shipping trucks and a dedicated staff of industry veterans. Our mission is to provide transportation for exotic and domestic automobiles through reliable, safe, and efficient means without fail. Our core competencies lie in the fundamentals of logistics: scheduling, communication and customer service. We're able to get your vehicle shipped without any ambiguities in costs or when it is delivered. For more information visit www.bluestarrelo.com.
About Cartus
Cartus, the market leader in global mobility, provides a full spectrum of global relocation solutions and can successfully move employees into and out of 185 countries. By leveraging innovative solutions and its Leading Edge Analytics Practice (LEAP), Cartus serves more than half of Fortune 50 companies as well as smaller organizations. Cartus is part of Realogy Holdings Corp. (NYSE: RLGY), a global leader in real estate franchising and provider of real estate brokerage, relocation and settlement services. To find out how our greater experience, reach, and hands-on guidance can help your company, visit www.cartus.com.